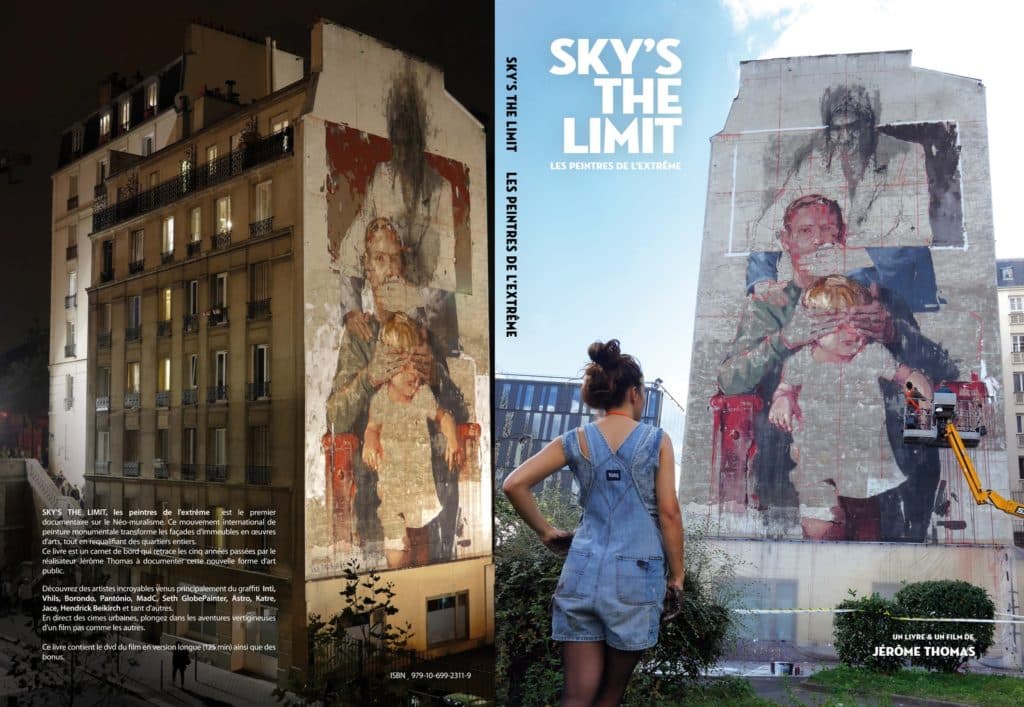 Lien Apple Store :
https://itunes.apple.com/fr/movie/skys-the-limit-the-painters-of-the-extreme/id1441785712


« Sky's the limit, les peintres de l'extrême », est le premier livre-film sur le Néo-muralisme. Ce mouvement international de peintures monumentales transforme les façades d'immeubles en œuvres d'art, tout en requalifiant des quartiers entiers. Ce livre est un carnet de bord qui retrace les cinq années passées par le réalisateur Jérôme Thomas à documenter cette nouvelle forme d'art public. Découvrez des artistes incroyables venus principalement du graffiti comme : Inti, Vhils, Borondo, Pantónio, Seth GlobePainter, Astro, Katre et tant d'autres.
En direct des cimes urbaines, plongez dans les aventures vertigineuses d'un film pas comme les autres.
Ce livre contient le dvd du film en version longue (125 min) + des bonus.

« Sky's the limit, the painters of extreme », is the first book-movie about Néo-muralisme.
This international movement of monumental paintings transforms the facades of buildings into pieces of art, quite there requalifiant whole districts.
This book is a log book which redraws five last years by the director Jérôme Thomas to document this new form of public art.
Discover incredible artists coming mainly from the graffiti as: Inti, Vhils, Borondo, Pantónio, Seth GlobePainter, Astro, Katre and so many others. Directly from the urban tops, dive into the vertiginous adventures of a movie not as the others.
This book contains the DVD of the movie in long version (125 min) + bonuses. »

« Sky's the limit, pintores del extremo » es el primera película-libro sobre el nuevo mralismo. Este movimiento internacional de pintura monumental transforma las fachadas de los edificios en obras de arte, al tiempo que reconstruye barrios enteros. Este libro es un diario que rememora los cinco años que pasó el director Jerome Thomas para documentar esta nueva forma de arte público. Descubre artistas increíbles que provienen principalmente de graffiti como: Inti, Vhils, Borondo, Pantónio, Seth GlobePainter, Astro, Katre y muchos otros. Vive desde los picos urbanos, sumérgete en las vertiginosas aventuras de una película como ninguna otra.
Este libro contiene el DVD de la película en versión larga (125 min) + bonificaciones.